In this video we learn how to use an animated parameter to create a dynamic surface paneling.
Create radial array using Ring controller.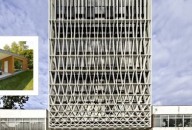 In this tutorial we'll show you how to adjust the spacing of a Linear controller by overriding the index value within the array using a Graph controller; we do this to generate the horizontal bars within the facade. In part II of this video series we discuss about how to distribute the members of a two […]
his tutorial covers the Interpolate, Graph and Random Controllers in Para 2.8 Tutorial by Kory Bieg, OTA+
This video shows the potential of using Loft object in Parametric array. If you array the loft object PARA cannot find the information about the PATH object (base line) To get access to the vertices of the path object you need to animate the object before you use it.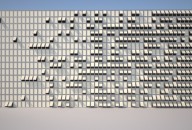 This video shows that random controller can produce Boolean values (TRUE-FALSE) by chance. You can make decision based on the result of the random controller. This process is similar to coin flipping.