What is Para 3d?
3ds Max plug-in
1Para 3d is a scripted plug-in for 3ds Max enabling users to create parametric digital models and animations using all excessive modeling features of 3ds Max and additional controllers available in the plug-in.
Intuitive
2Para 3d is designed to be as easy and user friendly as possible. The user interface is similar to the Material Editor in 3ds Max as to cut out any steep learning curves once in the Para 3d environment. Everything can be done by simply dragging and dropping the chosen tool(s) and manipulating the values to whichever degree is required. There is an almost unlimited combination of tools that can be merged.
Complex and Light
3Para 3d has been designed to be as efficient as possible, using as little memory as possible. We have managed to make it much lighter than Parametric Array 1, even though we now have 31 controllers as opposed to only 5 in the original. Furthermore, with the need to be more user friendly, Para 3d no longer requires the user to have any programming background. PARA 3D is an 0-code-program.
Is Para 3d for me?
4Para 3d is an inclusive plug-in for all types of designers. This is demonstrated by the fact that no programming background is required whatsoever and anyone should be able to use it. Para 3d is useful for various disciplines including motion graphics and visualization. However, due to the power hungry and speed conscious applications that Animators invariably require, a quicker version of Para 3d is currently under development. More updates to follow soon.
Licensing
*All pricing shown in US dollars

| License Type | Commercial | Academic |
| --- | --- | --- |
| User | Professionals | Students w/ valid academic email |
| Valid | Lifetime | 4 Years w/ upgrades |
| Minor Upgrade | Yes | Yes |
| Version Upgrade | $50.00 | *Free |
| Individual License | $150.00 | $40.00 |
| 2-Pack | $255.00 | Unavailable |
| 3-Pack | $330.00 | Unavailable |
| Registration | Online | Email |
| | Buy now | Buy now |
*Student are entitled to all minor and major upgrades through our 4 year academic license. Beyond 4 years, Para3d will remain active but you are no longer eligible for free upgrades. Students must upgrade to a commercial license to be eligible for upgrades.
Software Lock
Each Para 3d license works exclusively with one machine. Users can migrate to another machine once the software log file is available. To access your log file, (after uninstalling) look under: current user/temp folder and email us at: support@parametriczoo.com
Design Workshops
Schools and universities can benefit from our intensive 2-4 workshops in addition to academic discounts on licensing. If you would like to schedule a workshop or outfit an entire classroom with Para 3d, please contact us at: info@parametriczoo.com
Product Activation
STEP 1.
Open the link below below:
https://www.parametriczoo.com/license_manager/Login/
Enter your email (username) and password.


STEP 2.
Select "Upgrade" link and download the latest version. You must remove the demo version from your computer and install the correct version before proceeding to the next step. Video tutorial here.
Note: You may be redirected to your profile page; assure all required fields are filled out.

STEP 3.
Select the "Activate" link.


STEP 4.
Open 3ds Max. A dialog bow will appear containing your request code. Use the "Copy to Clipboard" option to place the code into the clipboard and return to the license manager.


STEP 5.
Paste the request code in the related field, enter your name and select "Generate and download the license file". A dialog box will ask you to confirm the request code, recheck and select "Ok" to continue.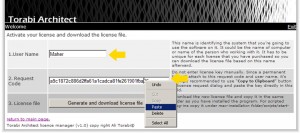 STEP 6.
At this point you will see your serial number and link to your license file. Select the "Download" link. If you received an error instead of the download link, please forward your request code to support@parametriczoo.com


STEP 7.
Select "Save"

STEP 8.
Save the license file under your script/startup folder.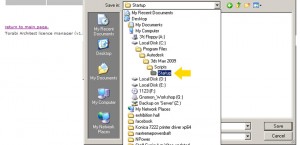 Thank you again for purchasing Para 3d and happy designing!
Cheers.
The Parametric Zoo Team.
Release 4.5
Para 3d Version 4.5 release date: 28th of Nov. 2014
This upgrade requires Para 3d 4.4 to be installed.
Bugs Fixed
Bugs fixed in regenerate members functionality of Parametric array node.
Controller library performance improved when collecting controllers from the scene
Surface controller can work under variable override controller
'Filter array' can filter Reference array nodes
Property setter options are available when controller is off
Bugs fixed in update selected members function
Para link controller can now access the attribute holders.
Problem assigning linear controller to explode node is fixed.
Improvement in Compound object functionality
Bug fixed in Snapshot and loop parameter
Reference array problem in array more than one dimension fixed