What's PARA 3D?
3DS MAX plug-in
1PARA 3d is a scripted plug-in for 3DS MAX which enables users to create parametric digital models and animations using all excessive modeling features of 3DS MAX and additional controllers available in the plug-in.
Easy to learn
2PARA 3D is designed to be as easy and user friendly as possible, and therefore early on it was decided to keep the layout and system similar to Material Editor in 3DMax, so as to cut out any learning/training period once beginning to use this new software. Everything can be done by simply dragging and dropping the chosen tool(s) and manipulating the values to whichever degree is required.There is an almost unlimited combination of tools that can be merged.
Complex yet Light
3PARA 3D has been designed to be as efficient as possible, having as little memory usage as possible. We have managed to make it much liter than Parametric Array 1, even though we now have 31 controllers as opposed to only 5 in the original! Furthermore, with the need to be more user friendly, PARA 3D no longer requires the user to have any programming background. PARA 3D is a 0-code-program!
Is PARA 3D for me?
4PARA 3D is the antithesis to the traditional approach of Architects borrowing software from Animators. Instead it is designed primarily for Architects and Designers. This is shown by the fact that no programming background is required whatsoever, and anyone should be able to use it; as a result of its ease of use. PARA 3D is very useful for various other disciplines including motion graphics and visualization. However, due to the power hungry and speed conscious applications that Animators invariably require, a quicker version of PARA 3D is currently under development. More updates to follow soon.
License Types
Following table presents all available PARA 3D license types.
Table 1: License types

| License type: | Commercial | Educational | Academic |
| --- | --- | --- | --- |
| Validity | Life time | 4 years | Life time |
| Receive upgrades | Yes | Yes | Yes |
| User | Professionals | Students with valid student ID | Computers in university lab |
| Price for individual license | 80 US $ | 24 US $ | 24 US $ + one free license |
| Price for package of 3 in one | 180 US $ | not available | not available |
| Price for package of 10 in one | 500 US $ | not available | 200 US $ * |
| Registration | Online | Offline ( in 24 hours) | Offline (in 24 hours) |
| | Buy now! | Buy now! | Buy now! |
top
Software lock.
PARA 3D license works only on one machine. It cannot be transferred to another station unless the software log file is available. PARA 3D makes a log file under your current user/temp folder while uninstalling and it's critical to send this file when you need to transfer the license.
*Parametric design Workshop
Schools and university can benefits from our special programs and workshops in addition to massive discount on the license fee. Please do not hesitate to contact us for more information in this regard.
Product Activation
In order to activate your license,please follow the
instruction:
STEP 1.
Open the following URL:
https://www.torabiarchitect.com/license_manager/license_manager_login.php
Enter your email (username) and password and then press login.


STEP 2.
Click on upgrade link and download the latest version. You must remove the demo version (if any) from your computer and install the original program before proceed to the next step.A video tutorial explains the installation of the plugin.
Note:You may be redirected to your profile page, Please take your time and fill out all required fields.

STEP 3.
Click on Activate link.


STEP 4.
Now open 3ds MAX, and create a parametric array. A pop-up message will appear, contain the request code. Use the Copy to Clip-Board button to place the code in the clipboard and return to the license manager.


STEP 5.
Paste the request code in the related field and enter your name and press "Generate and download the license file" button. A message will ask your confirmation on request code, Check the request code and make sure it has been pasted correctly and then press "Ok"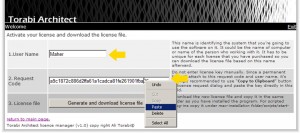 STEP 6.
After a few seconds you must see your serial number and link to your license file. click on the Download link.If you got error instead of the download link send your request code to info@torabiarchitect.com and ask for assistance.


STEP 7.
STEP 8.
Save the license file under your script/startup folder. Return to 3DS MAX and create another parametric array.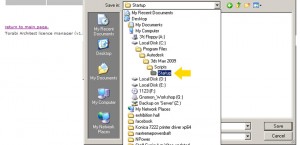 Thank you again for purchasing license for PARA 3D.
Please use our forum for any further question.
Current version (3.3)
Latest built V 3.3 released 30th September 2013.
Bugs fixed:
Bugs around controller Copy/paste function
Bugs in creating parametric arrays from a selection of MAX objects
Bugs in computing normal vector in Mesh Controller
Bugs in collection controller
New Para Features :
By introducing new value type "String" ,Para can now set the texts inside the MAX Text objects
New controller features:
New Text controller is available. All types of values can be converted to String type.
Mix Controller allows adding multiple string values.
Vector controller has more functions, Radius and center of InCircle and Circumscribed circle of three points.
Mesh Controller provide options to collect the outputs in a list. (multidimensional lists in output)
List controller returns the index of items in a sorted list.
New Interface features:
About button has been added to display toolbar
Labels can be removed from right-click menu
Deprecated
Multiple graphs in one Graph controller has been deprecated. In case you want to use graph controller on multiple dimension you need to use mix controller to mix multiple individual graph controller.