Use Para 3d Mesh-controller and FFD modifier to populate any object on any polygon with quad faces.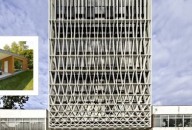 In this tutorial we'll show you how to adjust the spacing of a Linear controller by overriding the index value within the array using a Graph controller; we do this to generate the horizontal bars within the facade. In part II of this video series we discuss about how to distribute the members of a two […]
Random controller provides an extensive interface to generating random values in Para 3d. However the challenge is how to use same random value for all members in a same dimension. This video is an example of using variable override controller to control the behavior of random controller.