In order to activate your license,please follow the
instruction:
STEP 1.
Open the following URL:
https://www.torabiarchitect.com/license_manager/license_manager_login.php
Enter your email (username) and password and then press login.


STEP 2.
Click on upgrade link and download the latest version. You must remove the demo version from your computer and install the original program before proceed to the next step. You may be redirected to your profile page, Please take your time and fill out all required fields.


STEP 3.
Click on Activate link.


STEP 4.
Now open 3ds MAX, and create a parametric array. A pop-up message will appear, contain the request code. Use the Copy to Clip-Board button to place the code in the clipboard and return to the license manager.


STEP 5.
Paste the request code in the related field and enter your name and press "Generate and download the license file" button. A message will ask your confirmation on request code, Check the request code and make sure it has been pasted correctly and then press "Ok"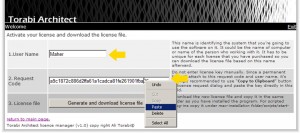 STEP 6.
After a few seconds you must see your serial number and link to your license file. click on the Download link.If you got error instead of the download link send your request code to info@torabiarchitect.com and ask for assistance.


STEP 7.
STEP 8.
Save the license file under your script/startup folder. Return to 3DS MAX and create another parametric array.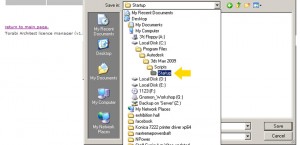 Thank you again for purchasing license for PARA 3D.
Please use our forum for any further question.